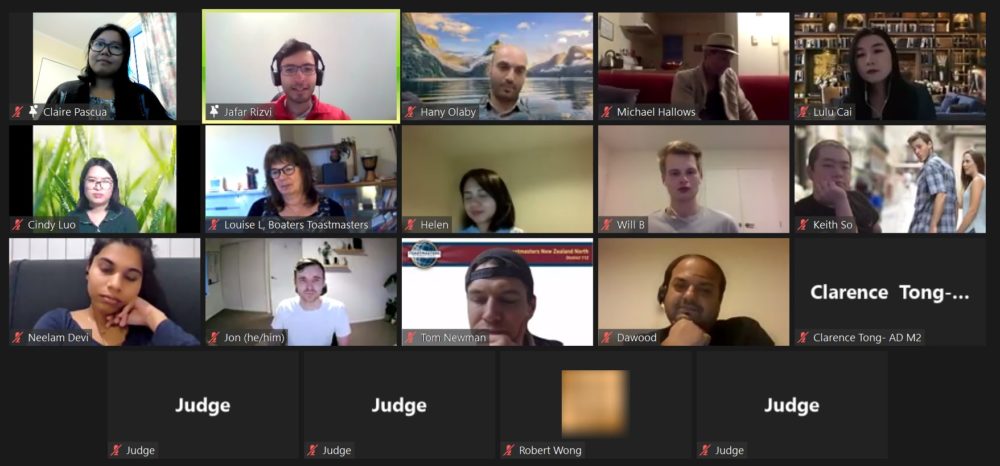 Tonight, 20th of September 2021, we held our Humorous Speech and Table Topics contests. Though our meeting was held online, we are very pleased that the contests ran very smoothly!
The Humorous Speech Contest was ran by Contest Chair, Claire. The first speaker, Jafar, delivered his speech, where he aired some of his complaints. (The joke is that Jafar rarely ever complains.) Hani followed with a speech in which he gave advice on how to breakup with your partner. While judges convened to decide the winners, the contest sergeant-at-arms, Michael, entertained the club members and guests with a short and casual Table Topics segment.
After a short break, the Table Topics Contest commenced with Jafar as Contest Chair. Six contestants: Keith, Neelam, Claire, Cindy, Helen and Lulu were asked the question, "Home is where the heart is. Is this true?" Claire won the judges' favour as she talked about how her heart is split in two places: the Philippines (her hometown where her family lives) and Auckland (where she and her partner lives). Again, as the judges deliberated about the winners, the contest sergeant-at-arms, Clarence, filled the time with some more casual Table Topics.
Congratulations to all our contestants for putting themselves out there and competing in the club contests! Congratulations also to our winners:
Humorous Speech Contest Winners
1st place: Hani
2nd place: Jafar 
Table Topics Contest Winners
1st place: Claire 
2nd place: Cindy 
3rd place: Neelam 
Thank you to very much to our Vice-President Education, Jon, for organising the contest, to our contest chairs, timers, ballot counters and sergeants-at-arms, to our guests, and especially to our judges. We hope to see everyone at the next club meeting on the 4th of October!